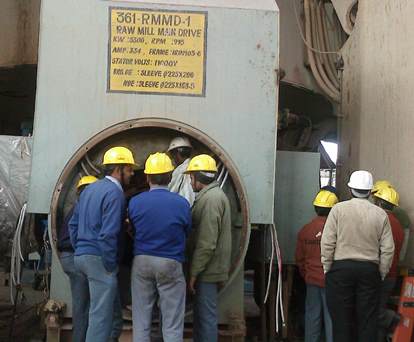 Our Services
We introduce ourselves as repair/ rewinders of electric Motors, Alternators (H.T/L.T.) and D.C. Motors. We have been extending our services to the Industries from last Thirteen years. We repair each and every type of alternators and motors. This association itself is a testimony to high quality services being provided. Our works are fully equipped with all the modern facilities required for repairing / rewinding. We are constantly adding new facilities in our works, So as to keep ourselves equipped with the latest technology and to give best possible services to our customers. We believe in maintaining long terms relationship with our customer by providing them the utmost satisfaction, Undersign having 30 years experience of various type of Motors and Alternators. We are authorized service centre of
M/S Siemens Ltd
M/S Crompton Greves Ltd
M/S Bharat Bijilee Ltd
M/S Marathon Electric Motors (India) Ltd.
M/S ABB India Ltd.
We are having Following facilities in our works:-
20 Ton Overhead EOT
Crane manual 5 ton & 2 ton.
Dy.balancing Machine 3 Ton and extended up to 5 Tons
VPI Facility available up to 5000KW for L.T & H.T Motors.
Oven 10feet/10feet/10feet & Oven 4feet/4feet/4feet
Dust free room for store the coils and insulating material
Coil making machine for H.T & L.T Motors.
D.C motor testing panel.
All required testing and rewinding equipments with calibrated: - Surge comparison tester, High-voltage tester (33KV/300mAmp & 5KV/20mAmp), Resistance meter, Vibro meter, Bore gauge, Vernier caliper, Non-contact techo meter, Non-contact temperature meter, Meggar up to 5000V, Dimmer 4 Nos. (200A, 100A, 40A, 15A) Multimeters, Tong testers, Air compressor, Fridger for store the insulating material (especially for H.T motors) Etc.
Hydraulic Puller for remove the coupling.
Highly skilled supervisor and technical staff.